Fuel Additives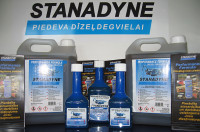 The heart of your engine is its fuel injection equipment and the major enemy of this equipment is poor quality fuel. From extensive research and testing, STANADYNE found that variations in fuel quality around the world can adversely affect today's precision fuel injection systems. Poor quality fuel can cause performance issues, premature wear, gumming of components, and plugged filters. To resolve these issues and to provide protection of the fuel injection system, STANADYNE offers a variety of diesel and gasoline additives for every application and operating condition.
STANADYNE brand diesel fuel additives are the only ones in the world that are:
Developed by a fuel injection system manufacturer;
Tested and approved by major engine and vehicle manufacturers;
Proven to perform best in independent tests.
STANADYNE fuel additives protect and improve the performance of all fuel injection systems including:
High pressure common rail;
Unit injector;
Rotary distribution pumps;
In-line pumps
* Information from Stanadyne.com
Where to buy
For the purchase of fuel additive call +371 25660053